Tigerfrost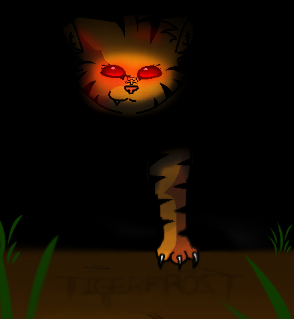 Posts

: 10


Join date

: 2010-08-24


Subject: Tigerfrost ish single! XD Sat 04 Sep 2010, 3:14 pm

---

Cat's name: Tigerfrost

Tom or She-Cat?: She-cat

Clan: ShadowClan (Not willing to inter-clan date. XD Unless she RLY like them >>)

Rank: Warrior

Appearance: orange, black tiger stripes, red eyes, long claws and fangs

Personality: aggressive, blood-thirsty, battle-hungry, ambitious, but amazingly kind to kits and her mate.

Do you want kits?: (Y/N) Heck yah!